Here is a list of some of the books that are either the last in a series or next in a series that I have been putting off reading for no reason what so ever and I need to stop that right now and get them finished because WHY AM I DOING THIS TO MYSELF?..
So here are a number of the series I need to finish because I read one or two books and didn't bother picking up the rest for whatever reason (I'm a lazy, book commitment phobic fool)
THE SONG OF ICE AND FIRE SERIES
As mentioned in my FANTASY SERIES I WANT TO READ post, I need to finish this, because of many reasons, one being that I'm collecting them in these stunning editions, another being that season six has just started and it has ignited a spark within me that I always get when watching Game of Thrones that I NEED TO READ EVERYTHING.I got halfway through the second novel and haven't picked it but again in a good few months. I also want to be caught up before the new book is published so I can have kind of the same feeling I had when waiting for new Harry Potter books all those years ago (oh to relive the Potter coaster a fresh again, if only it were possible).
I love these books. I love the multiple perspective aspect, and the hidden treasures I discover whilst reading that the HBO show omitted from the series. I do dislike a few of the perspectives, but those I just fly through to get past so I can find out WHATS HAPPENING AT THE WALL JON?! or ARYA ARE YOU OKAY TALK TO ME BABY I NEED TO KNOW YOU'RE OKAY!! Okay, calm down, I know. Sorry (not sorry).
2. THE CHAOS WALKING TRILOGY
I mean seriously. What is my problem? As you can see from my review of it, I FREAKING LOVED THE KNIFE OF NEVER LETTING GO and it is one of the rare YA books that absolutely took a hold of me and shook me until I couldn't take it anymore. I loved the story, the world, the characters, THE DOG!!! OH THE DOG!! but I haven't picked up the second book, The Ask And The Answer yet, I don't know why, maybe its the PTSA kicking in from the first book, maybe its because its a big book, I don't really know, but I need to fix this now and find out how the hell this one pans out because if the first book is anything to go by, this series in TENSE.
3. THE MILLENNIUM SERIES
I consumed the first two books in this series one after the other in a matter of days, this series is wonderfully gripping, complex, and thought provoking. I think because the plot is so intense with so many different characters and relationships, that as time went by from reading the third one I didn't want to read it without recapping the first two in the series. I know this makes no sense what so ever because I'm only making the time between reading the books even longer and therefore forgetting more and more as I let the time slip by. I have been pushed to get back into this series by the publication of the newest installment of this franchise The Girl In The Spider's Web written by another author after Larsson's death. I WILL recap on this series and get it finished ASAP because I really enjoyed the first two books so much and they were some of the first crime/adult literature books I read whilst exploring my reading tastes.
4. A SERIES OF UNFORTUNATE EVENTS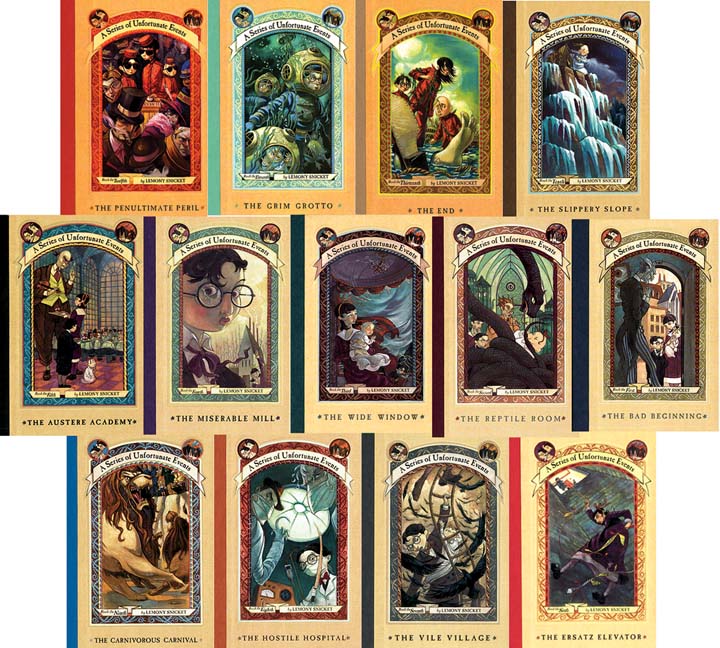 I read The Bad Beginning last year and, I didn't hate it, but I didn't love it at the same time, so I want to carry on with the series to see how I find the other books. If I don't enjoy the second one then I'll probably give the rest a miss but with everyone that loves this series raving about it I don't want to give up without trying first.