Sorry for the late wrap up, but as always life got in the way of blogging. I have had an absolutely insane few weeks throughout the end of January and the beginning of February. I have handed in my notice at the job I've worked at for almost six years, I'm about to start a new job in a couple of weeks, university has been insanely demanding since Christmas…but enough with the excuses (although my TBR list wasn't completed due to the above reasons) on with the wrap up!
The Tell-Tale Heart by Edgar Allan Poe
As I mentioned in my  reading resolutions, it is my aim to read at least one classic a month, every month, throughout the year. I started myself off very small, reading The Tell-Tale Heart. This short story was over in a few minutes, but the writing was absolutely wonderful and truly haunting. I loved the language Poe uses and the imagery his words create in such a short space of time.
2. Saga Volumes 1 & 2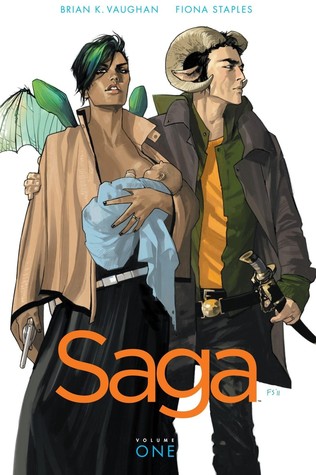 I am literally obsessed with this series. I have very little experience when it comes to reading graphic novels, but when I first started the Saga series I was instantly hooked. Not only is the art incredibly beautiful, but the narrative along time the art work is equally as captivating. I will do a full review of the series once I have caught up, I am half way through Volume 3 at the moment and I believe that there are 5 volumes published in total so I hope to be caught up within the next couple of weeks.
3. Yes Please by Amy Poehler
Yes Please was my first venture into audio-books, as you can tell I've really gone all out this month with trying different types of reading! I am very much on the fence about my experience with this book. I found it hilarious at times, but the audio book element didn't really stick with me as being a replacement for reading a physical book. I quickly forgot what I had heard, and if my mind wandered off I'd find myself not having listened to whole parts of the book. The book itself I enjoyed, and I plan on reading the physical book soon as I think I would enjoy it a lot more rather than just listening. That being said, Amy's narration made the audio experience feel very personal and that made me enjoy it a lot more than I would have if it were being read by an outsider. I will definitely be returning to this book in its physical form as soon as I can.
4. The Name Of The Wind by Patrick Rothfuss [50% READ]
I am currently just under half way through this epic fantasy novel, which I literally adore and has the potential to become one of my favorite books of all time. I had to put it down after getting about a third of the way through because I had tonnes of assignments and university reading to do but I will be getting back into it in February and finishing it as soon as possible, I will be doing a full length review about this book, and I'm sure I'll have a lot to say because so far it has been incredible!