Hi guys! I recently saw this tag on TheMysteryReader and thought it looked quite fun so I'm just going to answer a few questions all TBR related (because that pile is never ever ending!!).
1)How do you keep track of your TBR pile? 
I don't have a designated shelf on my bookshelf for my TBR books but I can pretty much keep track of the ones I haven't read on there. A good tool to use though is my GoodReads 'to read' list which is literally huge and I don't own all the books on it but that helps me to see which books I want to read and what I can choose to read next.
2)Is your TBR pile mostly print or eBook? 
It's pretty even to be honest. I have hundreds of books on my kindle, and quite a lot of print books. Usually if I enjoy an ebook I'll buy the physical book after just because I love owning physical copies of books that I really enjoy, but obviously they're no longer on my TBR by that point. I think it's pretty much 50/50.
3)How do you determine which book from your TBR to read next? 
I have only for the month of December started to do monthly TBRs so up until then it is really just the case of staring blankly at my bookshelves until something exciting catches my attention. But after this month I'll be doing monthly TBRs with the help of a TBR Jar and also including some books that have been on my shelf unread for far far too long.
4)The book that's been on your TBR the longest? 
There are LOOOADS. Probably the one that I've been wanting to read for literally ever and have never gotten round to is Northern Lights by Philip Pullman. Luckily my boyfriend bought me a stunning bind up of all the His Dark Materials books for my birthday earlier this month so I think that will be my first read in the new year!
5)A book you recently added to your TBR? 
A book I've recently added to my TBR is The Dragon Keeper by Robin Hobb. I love fantasy and I have never read a Robin Hobb book so I really want to try out some of her work soon!
6)A book on your TBR strictly because of the beautiful cover? 
This collection of short stories by Angela Readman! That cover is beautiful.
7)A Book on your TBR that you never plan on reading? 
Everyone has raved about Cinder and the Luna Chronicle series and I added it to my GoodReads TBR list ages ago but honestly I can't ever see myself reading it, it doesn't really interest me anymore.
8)An unpublished book on your TBR that your excited for?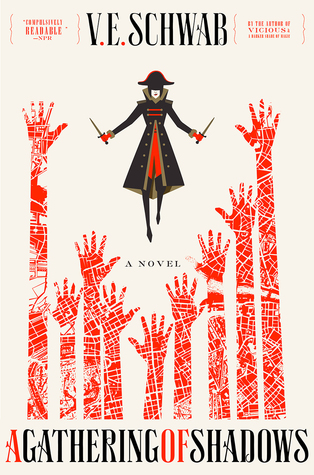 I am so excited for the sequel to A Darker Shade Of Magic!!
9)A book on your TBR shelf that everyone has read but you? 
I have read the first couple of pages of this book a million times but I've never actually sat down and tried to read it properly so this is definitely one to read soon because everyone seems to love it.
10)A book on your TBR that everyone recommends to you?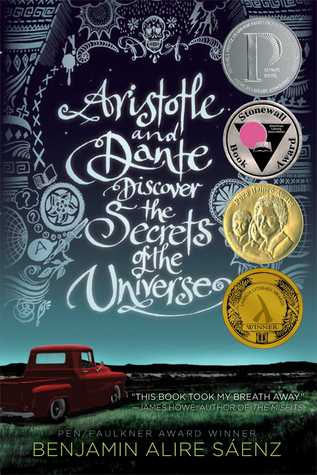 EVERYONE recommends Aristotle and Dante and I'm so late to this party and the wonderfully floppy paperback has been sat on my shelf since June so I really need to get to this ASAP.
11) A book on your TBR that your dying to read? 
I'm dying to read EVERYTHING on my TRB, that's why they're on there in the first place!!
12) How many books are on your TBR shelf on GoodReads? 
My GoodReads TBR is currently at 185 and growing all the time. What can I say? I want to read ALL THE BOOKS!